Grow sufficient, nutritious and safe food with Agrifac
We need land to grow food, healthy soils to nourish crops and livestock, clean water on farms, and farmers to make it all happen. Every farmer and contractor has their own daily challenge to achieve the highest possible return at the lowest cost. On a more global level, we know there is sufficient capacity to produce enough food to feed everyone adequately, despite the fact that the world population is predicted to increase to 10 billion by 2050. Instead of cultivating more and more land, we should be able to increase food productivity on existing farmland while at the same time lowering our footprint. That's exactly our goal in everything we do! We want to contribute to attaining higher food production in a sustainable, brilliant simple way.
Innovative tools
We can increase yield on less productive farmland where we see huge yield gaps between current production levels and what is possible with improved production practices, mechanization and sustainable agriculture. Combined with Agrifac's innovative sprayers you can achieve more yield with less water, crop protection agents and less fuel. You will provide each plant with exactly what it needs. Together with Agrifac, you can contribute to a 'brilliant simple' solution to feeding the world in a more sustainable manner.
Always the right balance
We all want food to stay safe by protecting plants against disease and mortality. We also have to treat nature with more care and respect, meaning reducing the amount of pesticides we use and respecting natural resources. We don't want overcropping or to use unnecessary chemicals, but a good, nutritious, healthy and yet resistant product.
4e's for growers
At Agrifac we develop innovative tools for farmers. We do this according to our '4Es for growers' concept. This means that efficiency, economy, ergonomy and ecology are leading in the design and development of our products. These developments are not only innovative but also very user friendly.
Brilliantly Simple.
Best for you and your crops
Agrifac wants nothing but the best for both farmers and plants. This means that we want to increase yield by 50% while reducing the use of chemicals by 50% at the same time. For example, with NEED Farming, which enables us to dose at the plant level, we can concentrate on achieving the best for each individual plant with less pesticides, liquid fertiliser and water; targeting more specifically and only using sprays where necessary.
Sprayer specialist for more than 80 years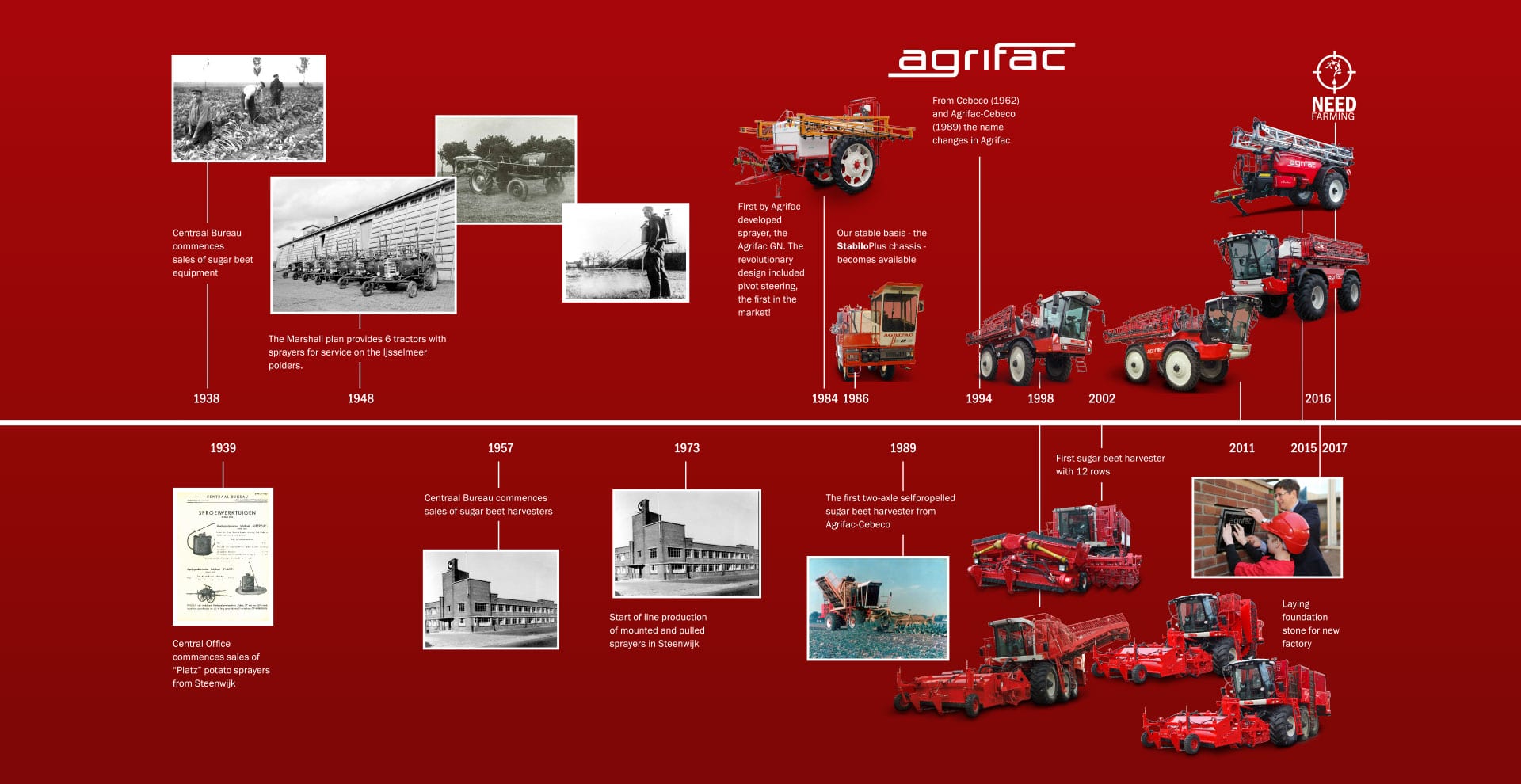 Agrifac started selling knapsack sprayers in 1938. After the second world war, the Marshall plan kickstarted the mechanization in the Netherlands. After successfully producing trailed sprayers, in 1986 the first self-propelled sprayers were designed and built; this is when we introduced StabiloPlus, the patented chassis. In the last years the new Condor Endurance and Condor sprayer range have been developed and most importantly, Agrifac made the next step forward into precision farming: NEED Farming. 
---
4Es for growers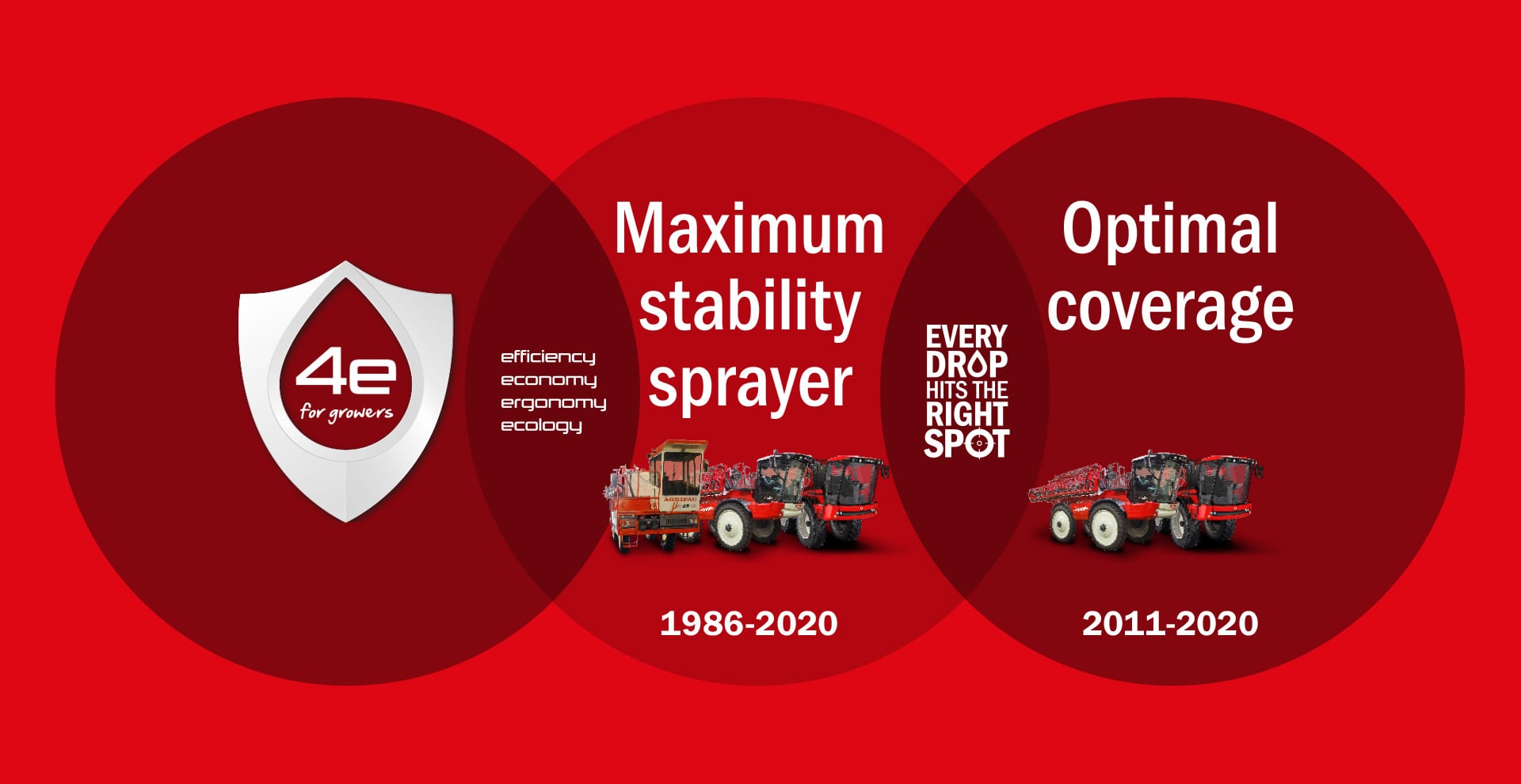 All Agrifac spray technology is developed in line with the 4Es for growers concept. This means that efficiency, economy, ergonomy and ecology are leading in the design and development of our products. The Condor sprayer helps crops grow by protecting and feeding them. The combination of smart technology, user friendliness, an attractive and robust design, and very low maintenance costs makes each Agrifac machine a glowing example of innovation.
Our achievements so far:
To make sure every drop hits the right spot, you need a sprayer with maximum stability. Since 1986 Agrifac has been producing the most stable sprayer on the market. The combination of the patented chassis (StabiloPlus) with a stable balance (BalancePlus) ensures that Agrifac can offer the widest and strongest booms on the market (J-Boom).
Then, the next phase was optimal coverage. No spray triangles, no under or overdosing when changing sections or nozzles, thanks to the full circulation and constant pressure within the clever design of GreenFlowPlus.
---
Most sustainable
''In 2019 it was determined that it is a "zero on the meter" (NOM) factory. This means that the solar panels have generated more energy than Agrifac have used.''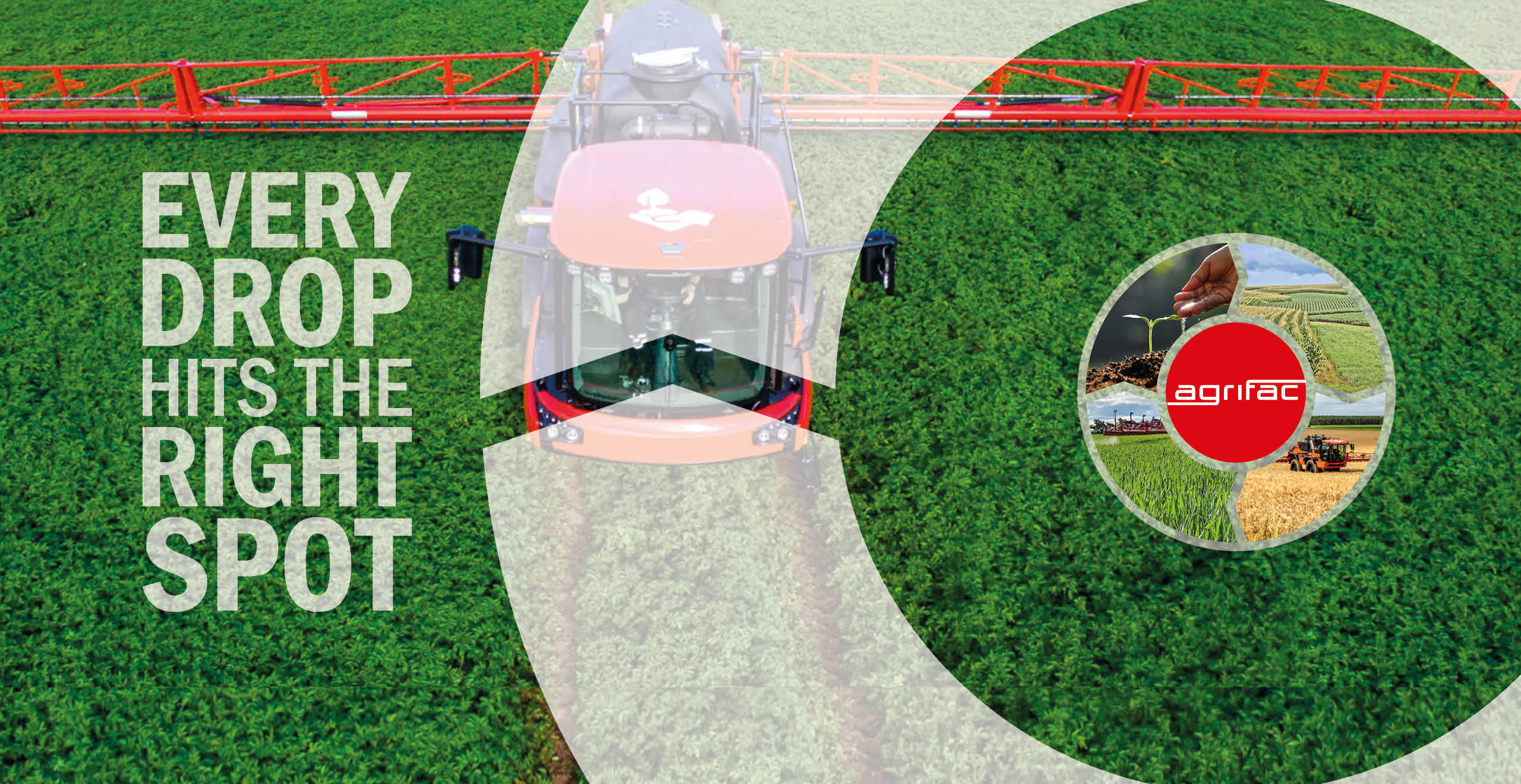 Agrifac likes to be at the forefront when it comes to innovations and sustainable crop protection practices. The most innovative and sustainable machines in the world are being developed and assembled in the most sustainable factory in the Netherlands according to the 4e's for Growers and our NEED Farming concept! Agrifac is passionate about sustainability. The Agrifac factory is one of the most sustainable in the world with a BREEAM score rating of 97.83%. Some figures from the evaluation are as follows: 50 m3 rainwater used for toilets and testing, 500m2 garden, greenery for insects, butterflies, bees etc., 5,000m2 solar panels. 
Learn More…
For producing the Condor, Agrifac uses the LEAN production method: Precisely specify value by each product, identify the value stream for each product, make value flow without interruptions, let customer gain value from the producer, and pursue perfection.
UN Sustainable Development Goals
In the year 2000, 189 UN members adopted the UN Millennium Development Goals. The 17 Sustainable Development Goals (SDGs) include aims to fight poverty and hunger, ensure water availability, and topics such as energy and climate change are high on the agenda also. At Agrifac we support these SDGs strongly. For now, we focus especially on these Goals: Zero Hunger, Clean Water and Sanitation, Responsible Consumption and Production, Life below water, Life on Land.