Meet the team behind C T Scott Ltd
Certified support anchors for Agrifac UK north of the Forth Road Bridge, Agricultural service engineers C T Scott Ltd, are celebrating their fifth anniversary with the Dutch sprayer manufacturers as of Spring 2022. Specialising in service support for crop sprayers and soil protection equipment, C T Scott was established in August 2016 by Craig Scott, who has since turned his 'man-in-a-van' enterprise into a thriving business, now employing six full-time members of staff. 
Just over six months into his new business venture, Craig signed a partnership agreement with Agrifac UK which saw his product support portfolio catapult fields ahead of the average self-start up engineering company. With the technology advances available from the Agrifac product range placing them at the top-end of the self-propelled spectrum, Craig was able to use this affiliation gained with the market-leading brand to create traction.
As collaborations with manufacturers strengthened, the C T Scott outfit naturally developed to supplement customers' support offering. As well as bringing Emma Scott onto the team, their engineer footprint was bolstered too with Jake coming onboard in 2019, Gabriel in 2020, Jules late 2020 and most recently Keith adding to the team to support their newly formed second base in Forfar. Additions to the team have also brought about an extension in the viable operation area, meaning the team can now service Murray, Aberdeenshire, Angus, Fife and Perthshire in as little as an hours' travel time. Future developments for the business are to include a more formal premise at their current Forfar base, further growing their reputation to a wider range of farmers and contractors.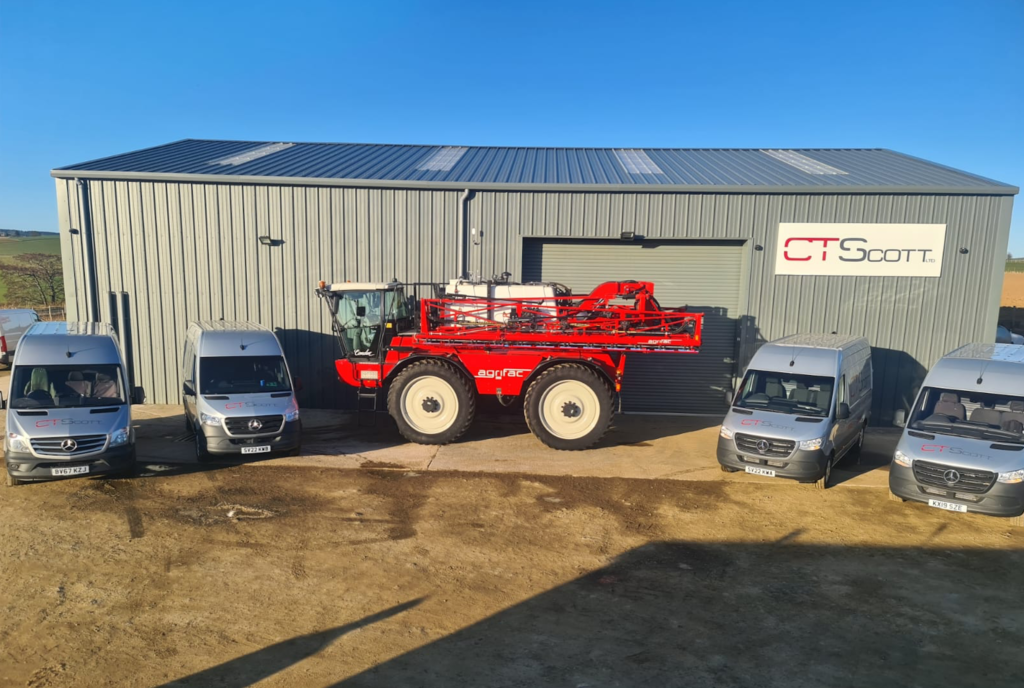 "Agrifac showing the initial trust in us as a sales and service agent was a massive compliment in the early days of establishing the business," Craig started, "The partnership definitely helped solidify the premium reputation I always aim to uphold in my work, and as a manufacturer of their class, they wouldn't risk signing territories over to agents they do not believe will add value to their brand or customers' ownership experience."
Craig expanded further on the partnership: "We've not been able to find any major faults with Agrifac over the five years we have worked together with them. Communication has always been exceptionally good with both the Sales and Service guys and training is constantly offered whenever new technology or machines are unveiled. This rapport has helped us believe in the team as well as believe in the product, which is the main driving force behind why we agree partnerships with certain manufacturers – you have to believe in their ethos and product just as much as they do."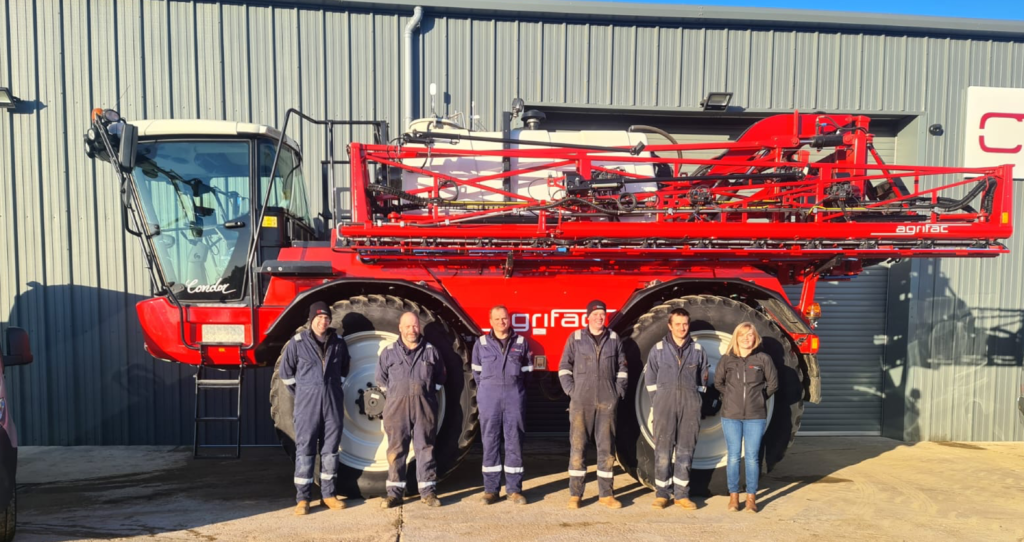 After watching the Agrifac product range evolve over the years, Craig underpins what it is that he can confidently advise the customers on the Agrifac product during sales enquiries. "The main concerns for any self-propelled sprayer for customers in this region is the hill climbing capabilities, turning circles and overall machine weight. As the machines have been upgraded over the years, these misconceptions can be eliminated with an Agrifac demonstration; the Condor range can comfortably obliterate those challenges and leave them as issues of the past." 
If you are based in Scotland and would like to meet the team to discuss demonstrations in your local area, drop into their stand at the Royal Highland Show in June 2022. Find Craig and the team on Avenue E, Stand 119. Alternatively, you can follow them on social media or contact them on the below details for Agrifac sales and service support: 
Instagram: @c_t_scott_ltd
Website: www.ctscott.co.uk
Address: Daies, Premnay, Insch, AB52 6QN