Legend of Agrifac UK Retires
Thursday 28 October, 2021
After 12 years' loyal service at Agrifac UK, October 2021 saw the retirement of Clive Freeman; a true legend within the Company. Known by both customers and colleagues alike as being the fountain of all knowledge at Agrifac, the sad farewell from his colleagues comes at an exciting time where both Clive and his Wife Carol, can step-back from their fast-paced workplaces and start the next adventure together, as they both retire from working life from November 2021. With a young family spread across the Country, Clive and Carol will be able to make the most of family time at their own leisure, as well as taking more time to enjoy their hobbies; both new-founded and once forgotten pastimes. Before Clive locked up the building he's called his home for the past 12 years for the very last time, we took a look back at his career within the industry, and delved into what he believes is the secret to a long and happy work-life.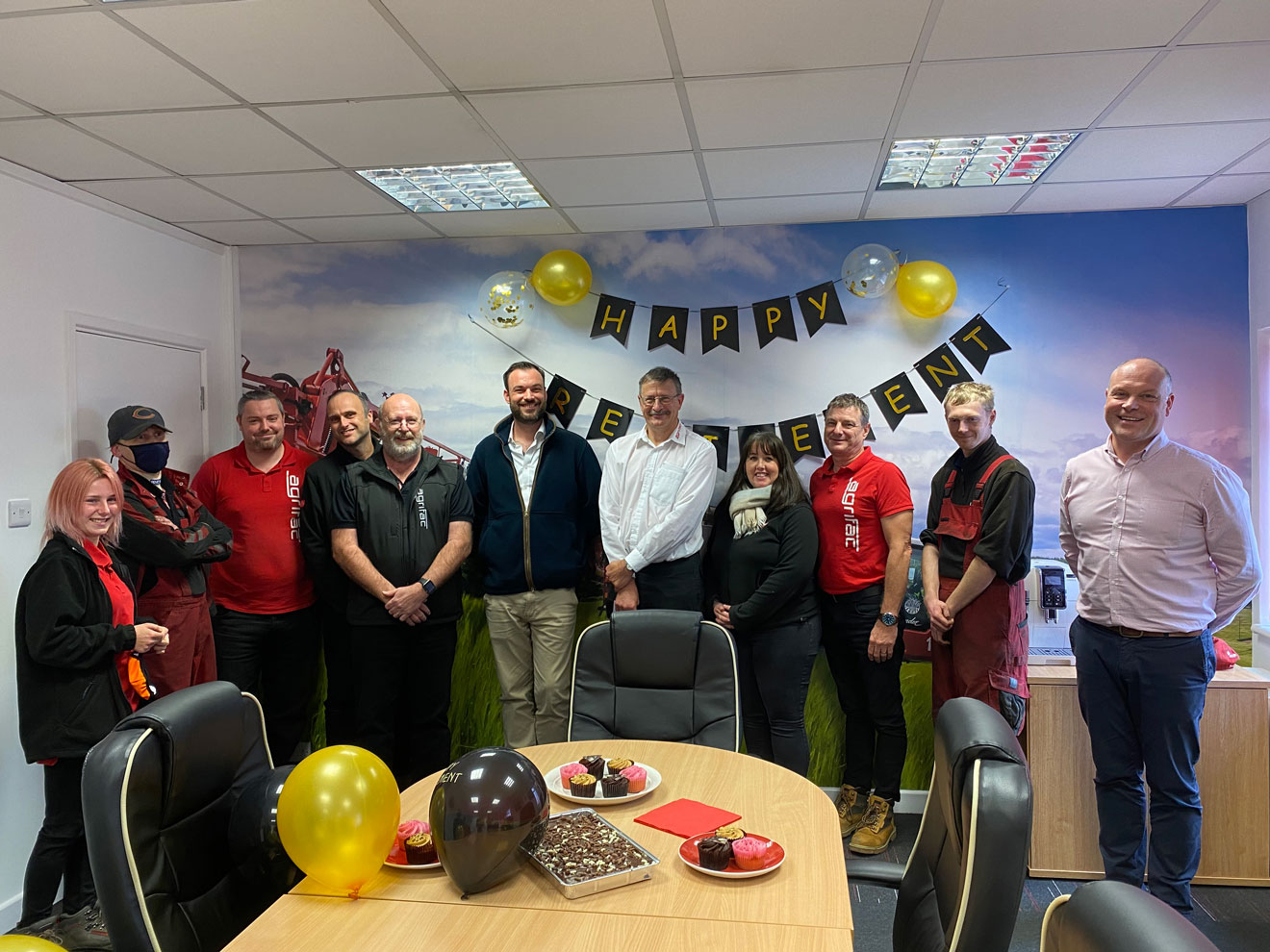 A look back on Clives' career
Clive has worked with automotive products all his life, apart from a short spell working within horticulture, where his main function has been based around stock controlling mainly within parts and service departments. "In 1974 I went to work for TNS Group Ltd (formerly FA Standen's Ltd March Agricultural Engineers) as a Junior Parts Person. At this stage, their main brand franchise was Massey Ferguson. During my time here, which spanned up until 2003, I progressed through the ranks from stock controlling to Parts and Service admin Manager." This was when Clive was able to gain his first taste within the industry, which at the time, little did he know, he would devote the majority of his working life to. From TNS, Clive tested the waters within Horticulture, supervising the stock control of indoor and outdoor plant supply into supermarkets; a fast-pace stock rolling environment, which would really test his patience. It wasn't until January 2010 that Agrifac managed to entice Clive back into Agriculture, where he would become an integral part of the team for twelve long years.
Agrifac UK over the years
"There were six members of staff and a few subcontractors working here when I began," started Clive, "That was back when the offices were based at our previous premises in March, Cambridgeshire." Clive held several positions within the company over the years, including Parts Management, Aftersales Management, Site Management, Health and Safety and even IT supervision, which ensured his knowledge of overall business operations was broad enough to become the unofficial 'Fountain of Knowledge' colleagues know and love him for. Clive continued: "The most noticeable change since I started here has been operational growth. Although predominantly crop sprayer focused now, back in the day, sugar beet harvesters were much more in the forefront, alongside parts supply of potato and root vegetable crop harvesters too." Wanting to get back into supplying parts for customers as well as being a point of customer service support, Clive saw the opportunity at Agrifac as the ideal role in reaching his career aspirations. Progressing alongside the company as it became more established, Clive saw the move to larger offices, as well as the acquisition of HOLMER, Zunhammer and HARDI during his time with Agrifac. "The growth within the last 12 years has been never ending. As well as the takeover of and merge with several brands, the staff increase has increased to almost four-fold to be able to effectively support the increase of sales and service requirements. Working with such large machines the operational area needs to reflect that, and the current building with workshop and yard space gives us the opportunity to work on and house more machinery."
Career advice
Straight-talking Clive has always taken a no-nonsense stance to working life, and believes that's the secret to success in what can be seen as quite a cut-throat and demanding industry. "If I had to give advice to anyone starting out within the industry, it would be 'learn to adapt'. Specifically, within Agricultural Engineering which the majority of the workforce here at Agrifac professionalise in, it's different to other industries. You battle the elements all year around and cannot hide from that fact. To be able to enjoy it and to thrive within it, you must learn to adapt. I would also say always work to the information you're given, because that way you are confident you are doing what is right by your understanding, and don't let others question that. A healthy debate is good for managing situations, so don't be put off if your belief in your knowledge is different to others. It's good to challenge. The main aim is to provide a service to the customer for them to be able to keep working. That should always be at the forefront of your mind. Their jobs are hard enough as it is, with relying so much on their environment around them; if you can support them in an honest and right about way, you're doing well."
Plans for retirement with Carol
Although grateful of 12 years' loyal service, we tested the waters to see if there would have been any other career that could have taken Clives' fancy. Clive smirked cheekily: "I wouldn't have minded trying gold mining, but only if I could keep the proceeds!" For now, Clive is most looking forward to visiting family who live away and deciding to have spontaneous days out with Carol when the sun shines without having to book holiday and rely on the weatherman for the green light of no rain. Also recently having taken up woodwork crafting, Clive hopes to continue this new hobby and attend local fairs to sell his handmade goods.
In the last couple of months leading up to his planned retirement, Clive has not had chance to take his foot off of the breaks. With the Company making considerable improvements to operations and processes, Clive has been as integral to this as he always has been, at delivering information, support and leading change within the team. Furthermore, Clive has been training Agrifac's new Warranty recruit to ensure she is up to speed and able to take the reins with ease when it is time for him to begin his next adventure. All at Agrifac UK wish Clive a happy, enjoyable and healthy retirement, and will forever be in his debt for the loyalty he served us with.