EcoTronic
Plus
The most user-friendly and highly praised control system gives users all the information they need during harvesting within arms length. EcoTronicPlus also ensures that most functions are carried out automatically. The machine's main processes and indicators are visible at a glance. In short, the operator has optimum control and intuitive operation with EcoTronicPlus. It's Brilliant Simple!
The system has a very straightforward touchscreen that displays exactly what the machine is doing. The machine's main processes and indicators are visible at a glance. The current liquid flows are displayed as graphics. Even in bright and direct sunlight, the screen is easy to read and operate. The colour screen also has a day/night setting.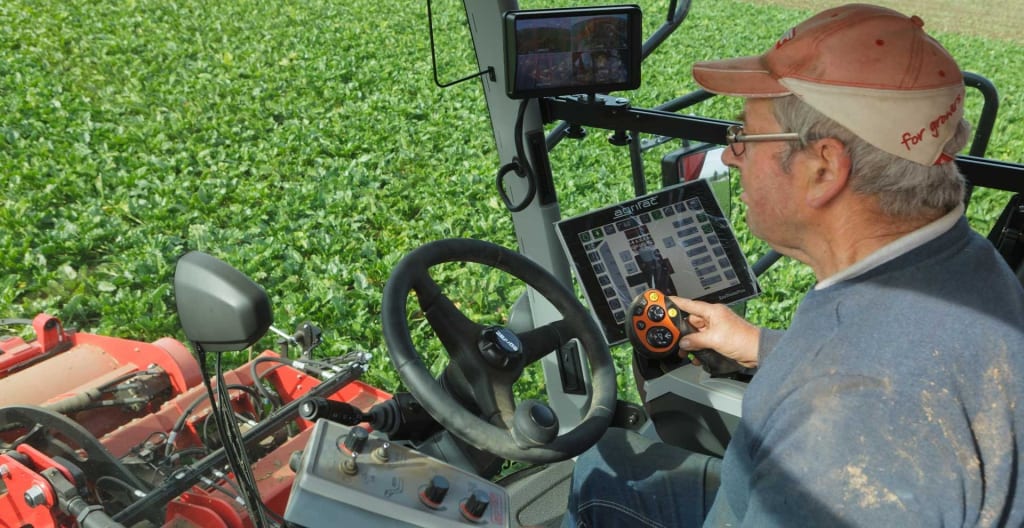 Optimum flexibility and plenty of choices
The harvesters controls are well thought out and arranged based on practical experience. In terms of ease of use, Agrifac chose to integrate the functions that are most used during harvesting in the joystick and the armrest so that all of the important functions are within easy reach. Other settings and readings are performed from the touchscreen. You can change lifting operations in three different ways:
Simple and easy
EcoTronicPlus:
All relevant information at a glance. The operator can access all information on the EcoTronicPlus touch screen with the buttons on the left and right hand side of the screen. These buttons are also used to set and adjust all basic settings, including Read out, Adjustments and User settings.
Dashboard:
The sophisticated and intelligent capabilities of the new EcotronicPlus system are reflected in the dashboard, integrated into the arm rest. All functions can be operated on the dashboard without looking (by touch), leaving the operator to focus and concentrate on the harvesting process.
Clear information while driving on the road:
As soon as the operator shifts to the road/transport mode, the corresponding display appears automatically. The screen shows the operator a clear and comprehensive screen, focussing on the relevant information. During transport it shows, amongst others: driving speed, engine speed, oil and engine temperature, fuel level and the actual date and time.
Read out
Day counter and total hectare counter
Driving speed
Engine speed
Fuel level, actual and average fuel consumption
Engine and oil temperature
Operating speeds of defoliator, lifters and turbines
Percentage lead speed of lifters and rotary intake over driving speed
Reaction speed of the steering
Automatic steering on/off
Automatic greasing check
Reaction speed of the depth control
Speed of unloading web
Setting of depth control and actual lifting depth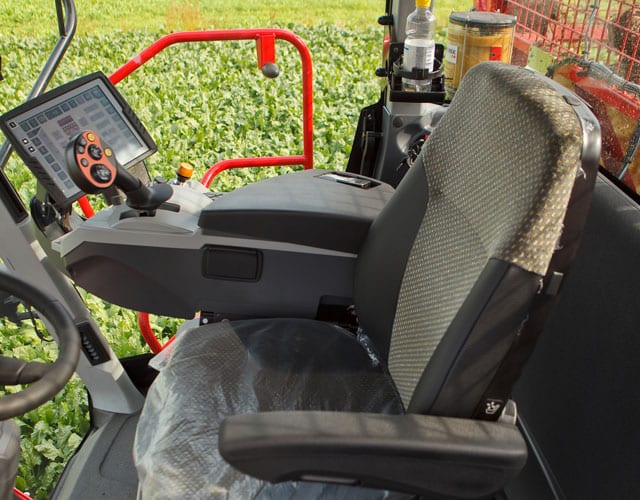 Adjustments
Cruise control driving speed
High/low field speed
Speed of the lifters
Reaction speed of the automatic steering
Automatic or manual steering
Track width adjustment of the front wheels
Direction of the tank filling auger: forward, backward or fully automatic
Defoliator speed
Lead speed of lifters and rotary intake
Reaction speed of depth control and levelling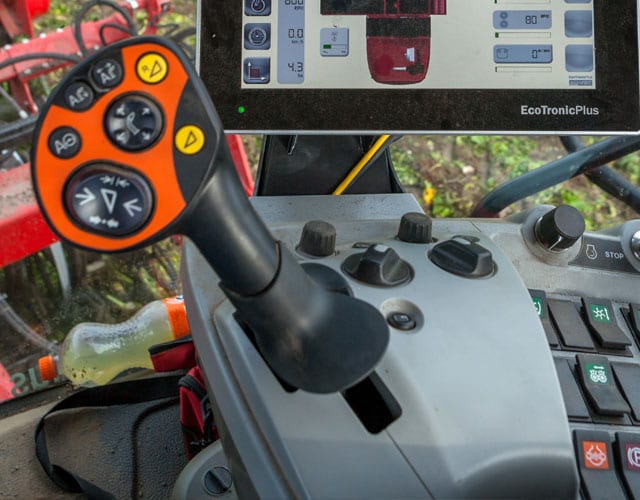 User settings
Defoliator manual or automatic on/of
Lifter manual or automatic on/off
Cleaning turbines, elevator and tank auger manual or automatic on/off
Automatic steering of front and rear wheels
Automatic steering of front wheels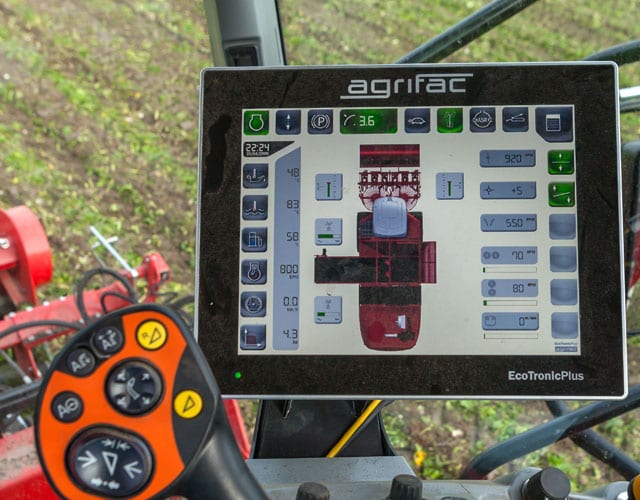 Dashboard
Defoliator and lifter on/off
Reverse position of lifting- and cleaning turbines
Engine speed
Setting of lifting depth and levelling
Adjusting scalping height and levelling
Setting harvest speed
Switch on/off road / transport speed (30 km/h)
Height adjustment defoliator left/right
Scalping height
Lower/lift leaf spreader
Side shift
Speed of lifting- and cleaning turbines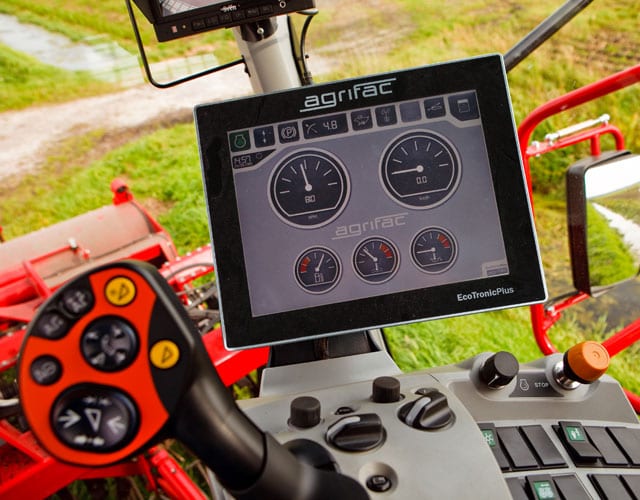 ---
Agrifac beet technologies
EcoTronicPlus is a standard on Agrifac beet harvesters
---
Agrifac LightTraxx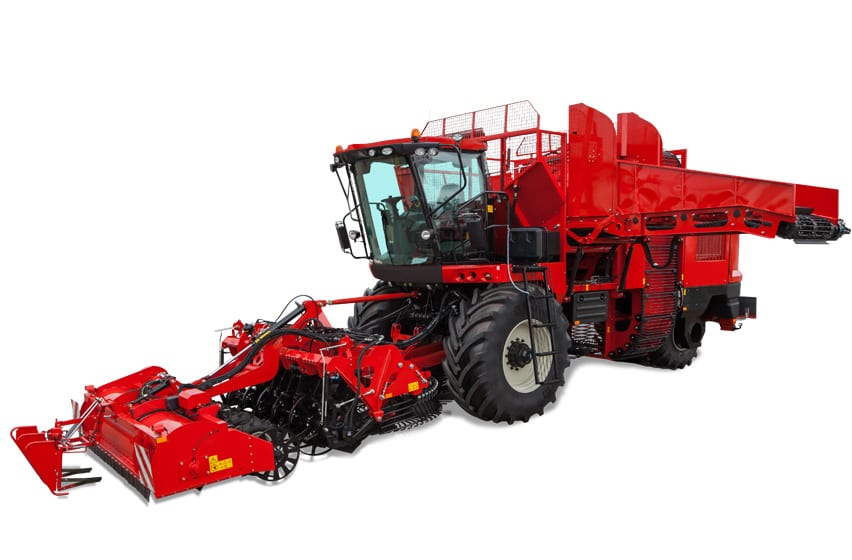 Agrifac LightTraxx
Light Operation
Light Ground Pressure
Light Work
Light Investment
Learn More
---
Agrifac OptiTraxx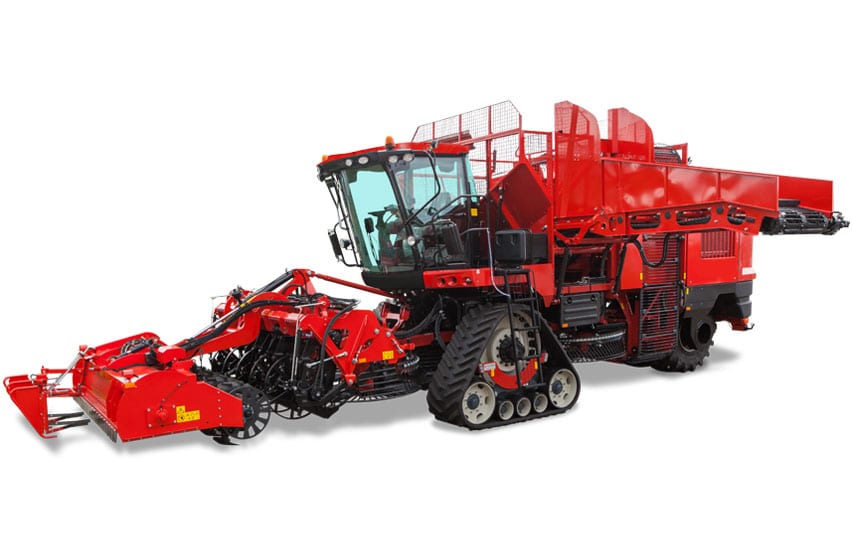 Agrifac OptiTraxx
Working longer under difficult conditions
Small turning radius
Equipped with a track system on the front axle
All benefits of the LightTraxx
Learn More