Crops grow
Similar to sunflowers, maize is a crop which utilizes and thrives on sunlight and is best grown in sunny regions to ensure highest yield per hectare. Soils should be warm enough to ensure a good emergence shortly after being drilled, therefore late Spring is the ideal time for the grower to commence planting.

Maize can be grown for two different needs; for grain and for forage. Providing both a food source to the general food supply by means of sweetcorn, as well as the option of the whole crop being chopped and used for animal feeds, maize is a diverse plant and can be beneficial for growers across the country, including those of livestock holdings. When utilising the crop for grain, the grower will tend to harvest the field during the Autumn, whereas for forage the crop needs to still be green, and will be cut earlier on in the growth stage when the grain is less mature. Because of the differing uses of the crop, the spraying needs throughout the growth stage of the plant also differ. One constant however, is the height of which the maize will grow by the time it is harvested, which is taller than the average grain or grass crop.
ClearancePlus
The ClearancePlus option on the Agrifac Condor self propelled sprayer offers the ultimate protection for taller crops. With the adjustable ground clearance of up to two metres, the Condor ClearancePlus is ideal for sunflowers, maize and other high bearing crops, allowing the operator to drive over the crop without touching the plant as he would in any other field. The ClearancePlus is also able to operate at a retracted height and spray at standard level making it very interchangeable and easy to adapt for working in every crop.
---
Condor Clearance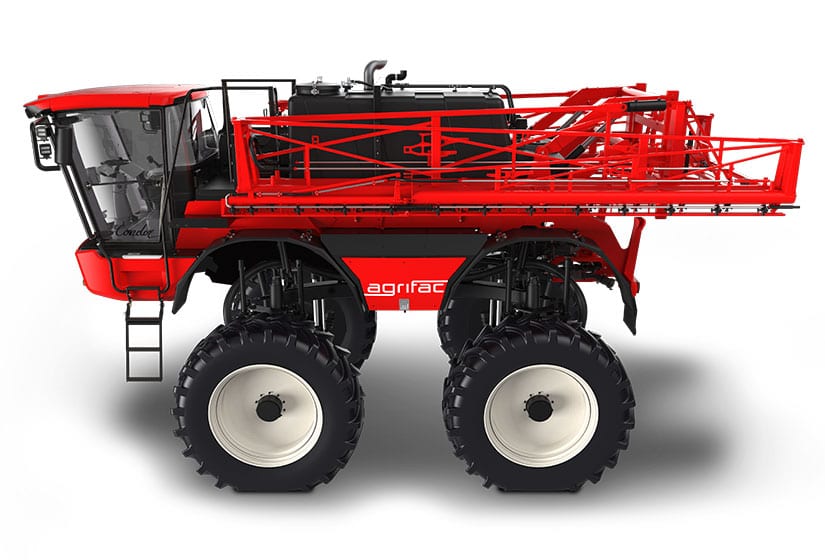 Condor Clearance
Ground clearance up to 2 metres
Ideal for sunflowers and maize crops
Spray booms height up to 440 cm
All benefits of a Condor
Learn more